What exciting new developments will we see this year?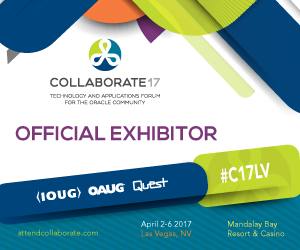 As we begin COLLABORATE 17, I find myself reflecting on the amazing developments that have taken place in the JD Edwards arena over the last few years.
Every year at COLLABORATE, from both Oracle and innovative JD Edwards partners, we see a wealth of enriched capabilities which empower customers to embrace exciting new technological developments, helping them to transform the way they work and do business.
At Q Software, we're proud to be part of this movement.  For many years we've been committed to streamlining complex security management and auditing processes for JD Edwards customers, because we feel that protecting your system from fraud and satisfying your auditors should be much easier.  Our aim is to harness appropriate technology to enable our customers to manage risk and compliance ever more effectively and efficiently.
At COLLABORATE this week, we'll be demonstrating our latest developments:
QCloud Automated Audit Service:
Auditing JDE security can be a very painful (and often unreliable) process, so we've introduced this new service to relieve the stress.
It's a Cloud-based service that enables you to request a security audit whenever you need it. The results will be delivered within hours – without any demand on your technical team.
I know that sounds too good to be true – so don't take my word for it!  If you're heading to Vegas, drop by booth #623 or attend this session and we'll show you how it works.  (If you're not, take a look at our short introductory video.)
Periodic Reviews:
Period Access Reviews play a crucial part in preventing internal fraud by getting business managers to ensure that their employees have appropriate access rights.
But conducting them can be such a nightmare that just mentioning the words "Access Review" gets people running for the hills…
To prevent this exodus, we're introducing a Periodic Review module in the new release of our Q Software for JD Edwards EnterpriseOne suite.  Come along to our COLLABORATE booth #623 to find out how much easier it can be.
You can also find out more about these innovations at our webinars – see the current schedule.
If you're attending COLLABORATE, have a great show!  I hope to see you there.