Achieve Efficiency in JD Edwards security, SoD and audit
Join us online at INFOCUS Dive Deep, where JD Edwards users of all levels can dig into new releases, dive deep into practical learning, get new ideas from best practices, and hone their core JD Edwards skills.
Visit our virtual booth to find out how to:
Cut JD Edwards security costs
Cut audit and SOX compliance costs
We offer on-premise and Cloud-based Audit, Compliance and Security Tools and Services for JD Edwards, including:
QuickTools – Implement and manage your security directly on the 950 much more efficiently than you can with the native JDE tools

User Admin Manager

 – Streamline User Provisioning with a workflow to process Role requests and approvals, including proactive Segregation of Duties checks prior to assigning Roles. Now UAM can process requests from external ticketing systems such as ServiceNow or Remedy.

Orchestrations: User Management Self-Audit 

– Our package of Orchestrations will help you to reduce risk and avoid audit findings in the areas of:User Classification • User Provisioning • User Termination • Privileged Users • Periodic Access Review • Authentication • Security Change Management

QCloud License Audit

 – Get an accurate view of you JD Edwards license usage
Find out more about these and other options available to you at the Q Software booth! We'll have security experts on-hand to answer any questions you may have and offer guidance based on your organization's requirements.
We'll also have a wide range of educational resources, so be sure to check those out!
And don't miss your chance to win our Quest-opoly $100 Amazon Gift Card prize, PLUS a $200 Amazon gift card in our Q Software competition! Check out our booth to find out how.
See our schedule of education and customer stories below, plus Q Software booth sessions!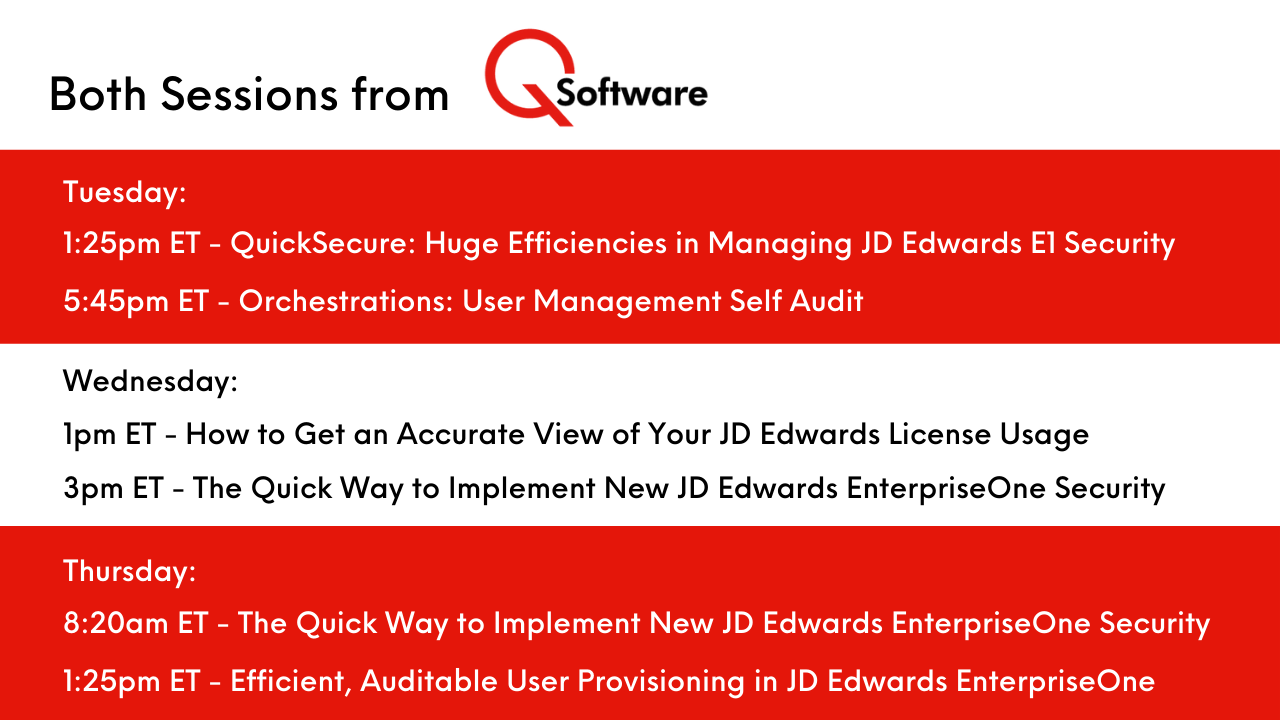 Audit and Security-related Education Sessions:
Segregation of Duties – stopping Fraud & satisfying Audit – The Easy Way
Tuesday, October 19 | 2:15pm – 3:15pm ET
Presented by Alain Habel, Manager, Corporate Application Management Services, Altagas Ltd. & Carrie Curry, Director of IT & Audit, Q Software
There are two key reasons why you need SoD controls around your JDE access. Many are pressed into them by Auditors, but stopping fraud (& keeping your job) is perhaps a better reason. But the task can be daunting, and let's face it, using a spreadsheet just doesn't work!
Alain will walk you through how he managed to rapidly create an SoD model, and put in place pro-active & detective controls.
JD Edwards Security – Making Light Work of the Heavy Lifting
Tuesday, October 19 | 4:15pm – 5:15pm ET
Presented by Edgar Villarroya, Senior Manager, Enterprise Applications, HAVI Global Solutions & Preston Leftwich, Technical Manager, Q Software
Havi Global Solutions is a mid-market supply chain business operating worldwide, who have been on JDE for some years.
Security of the system was not necessarily the key issue for the stakeholders, particularly since the company is privately owned. But, over time, the encroaching threat of fraud and a need to implement effective, sustainable controls led the IT Management to initiate a JDE security project. Other priorities kept getting in the way, but finally it had to happen.
Edgar Villarroya, Sr. Manager, Enterprise Applications shares their experience of consolidating roles to implement a leaner security model that enables his small team to support a large, global user base very efficiently. Automated SoD analysis and reporting has enabled them to identify and remediate their SoD violations, including some surprising cross-branch conflicts that they would never have suspected!
User Management Self-Audit: Using Orchestrations to Reduce Risk and Avoid Audit Findings
Wednesday, October 20 | 3:00pm – 4:00pm ET
Presented by Carrie Curry, Director of IT Security & Audit & Preston Leftwich, Technical Manager, Q Software
User Management is a complex area, where it's particularly important to make sure that all the right things happen.
Mistakes can leave you vulnerable to fraud or non-compliance. Auditors will be on the lookout for oversights in this area – and if they find them, they'll investigate further, which could lead to a longer audit engagement.
Implementing control self-assessment techniques helps you to identify such issues so that you can correct them well ahead of the audit – and Orchestrator can help!
Orchestrations make it easy to identify critical exceptions in areas such as:
User Classification
User Provisioning
User Termination
Privileged Users
Periodic Access Review
Authentication
Security Change Management
Join Carrie Curry and Preston Leftwich as they discuss the need for reliable checks and balances and introduce a package of Orchestrations which will help you to reduce risk and avoid audit findings.
Have a great conference. We hope to see you there!