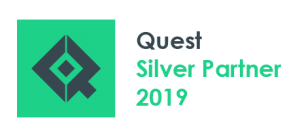 Visit us at booth 307 during INFOCUS 19!
If you're heading to Denver for INFOCUS 19, visit us to find out about on-premise and Cloud-based Audit, Compliance and Security Tools and Services for JD Edwards.
We've helped over 300 customers to streamline their audit reporting and keep their ERP systems secure and free from fraud.
QCloud Security Audit Service: Accurate security audit reports delivered quickly, whenever you need them – no technical effort needed. QCloud delivers the results within hours, including Segregation of Duties violations and recommendations for improvements.
QCloud License Audit: Stay compliant with your Oracle ERP Licensing and avoid unexpected bills! This service analyzes your ERP modules usage against your licensed quota, helping you to identify areas of non-compliance or redundant licenses.
Audit and security related Education Sessions:
102230: EnterpriseOne and the implications of GDPR
Tuesday, August 20, 2:00-3:00pm, Governor's Square 12
Presented by Colin Dawes, Syntax & Mike Ward, Q Software
103870: Carr Properties: Leveraging Technology to Achieve Scale and Efficiency
Wednesday, August 21, 3:30-4:30pm, Windows
Presented by Ilan Zachar, Carr Properties, Vycky Lara, Real Foundations & Mike Ward, Q Software
106430: Security Setup & Monitoring – Top 7 Tips for Efficiency & Control!
Thursday, August 22, 8:00-9:00am, Plaza Court 1
Presented by Mike Ward & Tres Paul, Q Software
100630: JD Edwards Security Audit in the Cloud – Be Prepared for the Auditors!
Thursday, August 22, 11:15am-12:15pm, Grand Ballroom I
Presented by Jennifer Leatherman, CTB, Inc. & Mike Ward, Q Software
Have a great conference! We hope to see you there