What A Week!
Every year you prepare yourself prior to attending COLLABORATE, but once you get into 'conference mode', you soon remember how busy, productive and draining a week it can be!
It was great to see old friends and acquaintances and to meet so many new people across the JD Edwards and Oracle E-Business Suite ecosystems.
From the Q Software perspective, the overall booth traffic was about the same as last year, but the discussions with customers and partners were much more detailed and the interest levels were higher.
All in all, my observations on the week can be broken down into three categories: Products, Partners and of course Customers.  Let me give you my thoughts on each of these areas…
Products
JD Edwards EnterpriseOne is alive and well!  There were many new announcements at the event.
It all started with the Keynote from Lyle Ekdahl, where we learned about the new release structure.  We are going to be seeing a much more incremental approach to JDE updates, as opposed to the cadence of a new 'big bang' release every three years.  I think this will be appreciated by customers, as for years they have been asking Oracle to make the upgrade process easier, but they still want new enhancements to add value to their investment.
The JDE UX One set of features is really being embraced by both customers and partners.  We saw some very clever and unique examples this week of composite pages that were created for industry specific scenarios.
We've built out some UX One content for our Q Software suite of security products.  The functionality really gives a new look to the traditional EnterpriseOne application.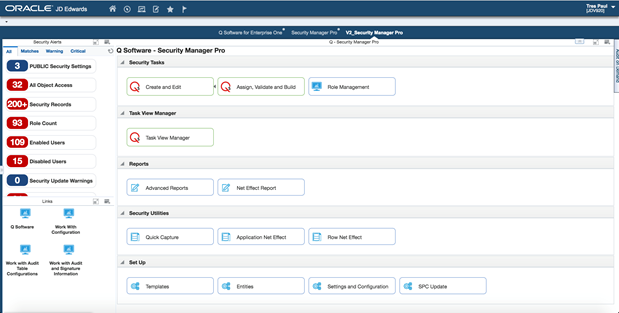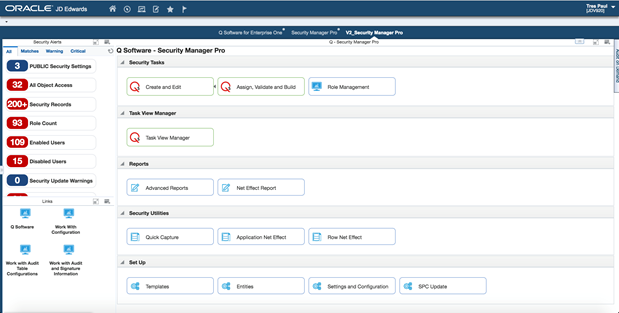 If you are interested in the UX One content from Q Software, please contact us for more information.
One thing that I would like to see from JD Edwards is a more open licensing policy on some of the features that are a part of UX One.
For example, the fact that Watchlists still require an OVR Foundation license makes no sense to me.  Partners are more than willing to build exciting content around watchlists, but they hesitate due to the fact that customers then have to go to Oracle for a license.  In discussions with our customers, they love the functionality, but most are not willing to invest.  We are trying to push all this new stuff, but small things like this could be fixed to accelerate adoption.
Other great new features were discussed as well.  The new search functionality is very impressive and makes navigating through the software even easier.  Continuous platform updates, including the new 'One Click' cloud provisioning, provide customers with even more options in their deployment landscape.
Partners
The partner community was buzzing all week with the announcements from Oracle, as well as the many new initiatives that I am seeing people embrace.  I saw a huge range of developments, from new product offerings that support and enhance JD Edwards, to new services that will help customers in many different ways that we haven't seen in the past.  The partners love this product and they are finding more and more ways to deliver value by augmenting the JD Edwards EnterpriseOne solution.
The other side of the buzz was a bit contentious.  Once the announcements on the release strategy were made, there were several conversations around the whole departure from the 3 year cadence.  Did that signal the end of EnterpriseOne?  Why don't we have a date for 9.3??  I'll take a line from the Green Bay Packers QB Aaron Rogers:
'R-E-L-A-X!'  
Continuous upgrade is a good thing.  After all, isn't a simpler upgrade what customers have been constantly asking for?  What partners need to start thinking about is how to pivot on this new release strategy and change their offerings.  It's that simple, people!
Customers
As I mentioned above, this year I saw more customers who wanted to see demos. There was a lot of interest in diving deeper into solutions, as well as side conversations on how customers could exploit partner solutions more.  From our booth, we gave many demos of our new 5.3 release of the Q Software for JD Edwards EnterpriseOne Suite, including our new Periodic Review functionality and many new enhancements to our Security and Audit Tools.  Interest in our Cloud-based Automated Audits was also very high.  There is a lot more coming in this area, so please keep your eye out!
In summary, it was a whirlwind conference and we're all still recovering!  But the key message is that JD Edwards is alive and kicking and we will all continue to benefit from further innovation going forward.
Until next time!
You can always find out more about Q Software products here