For JD Edwards EnterpriseOne
QuickRoles:
Efficient, sustainable, scalable security with minimal effort upfront
The fast route to compliant, Role-based security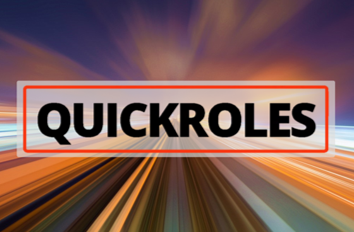 Role-based Access Control is the most efficient approach to managing JD Edwards security, but designing Roles from scratch can take a lot of effort.
QuickRoles provides predefined Roles and Segregation of Duties (SoD) Rules, creating up to 80% of your security within a few hours, ready for you to test and tailor.
Import, customize and be ready to test within hours
QuickRoles is an automation tool which captures the knowledge of security and audit experts to get you up and running very quickly.
It offers a pragmatic yet scalable solution for companies who want to implement efficient Role-based security as quickly and easily as possible, including:
New JDE users implementing for the first time
Existing JDE users who want a security redesign.
QuickRoles offers two alternative routes to Role security:
For users who like the simple grid approach of Security Workbench, it writes Role security records directly to the F00950 security table, where you can tailor it with QuickSecure, our simplified security tool that comes with QuickRoles.
For users who want to take advantage of the advanced tools in Security Manager Pro (SMP) for ultra-efficient security management and proactive SoD checks, it populates SMP's PreBuild tables.
Watch how QuickRoles works
Very rapid implementation of Role-based security – be ready to test within a few hours
Don't reinvent the wheel – use Roles and SoD Rules designed by experts
Roles are automatically selected for all the JDE modules you use
Business-friendly – meaningful names give all users a clear view of the tasks within the Roles
Security can be fully tested and refined as part of your system/user acceptance testing process
Proactive compliance – identify and resolve SoD conflicts before you deploy the security (SMP version)
Use Audit Manager to identify SoD conflicts in your live security as you test and tailor your Roles (F00950 version)
Minimal risk of access problems at go-live
Holistic, efficient risk management – integrated solutions available for User Provisioning, SoD/Audit Reporting, Periodic Access Review and Fraud Detection.
Features
QuickRoles is a Cloud-based automation tool which enables you to create and deploy an efficient, scalable, sustainable Roles-based security model very quickly, with minimal effort and cost.
It can also create a starter set of Segregation of Duties rules, based on the Roles that it creates.
Seeded Roles with predefined security, covering a wide range of job functions
Industry-specific Roles for Real Estate, Manufacturing and Distribution
Seeded SoD Rules for your selected Roles (optional)
QCloud: the Cloud-based system behind QuickRoles. It provides the dashboard, manages the automation, and holds the Seeded Roles and Rules
Optional consultancy to help you tailor the Roles to meet your specific needs.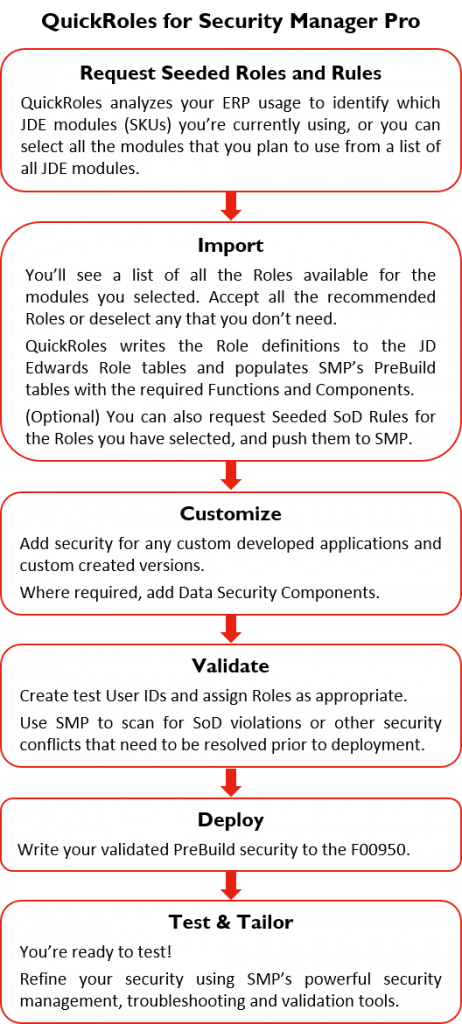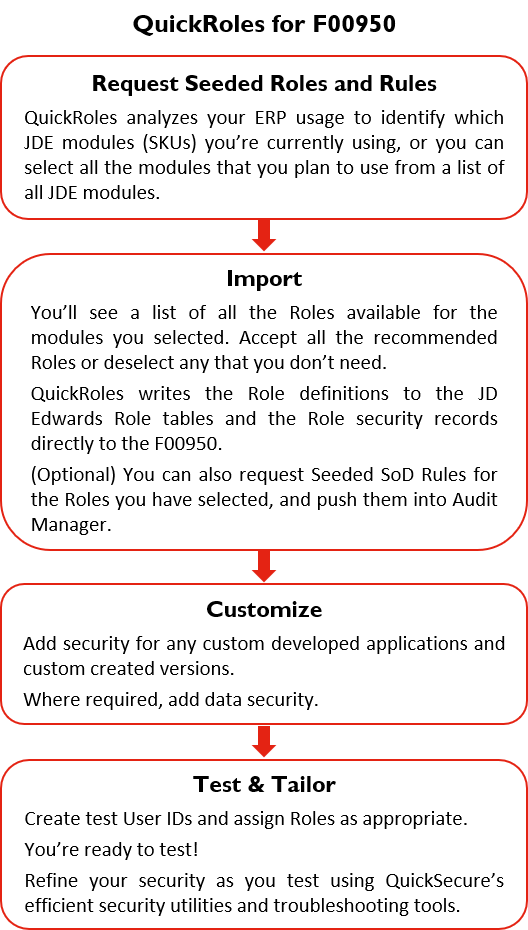 With either approach, to complete your security it's important to test and tailor your Roles to reflect your specific organizational structure and business processes. We can offer advice and guidance to help you to do this.