For Oracle E-Business Suite
QCloud Security Audit:
Put an End to Painful Security Audits
QCloud makes Segregation of Duties and Risk Controls Easy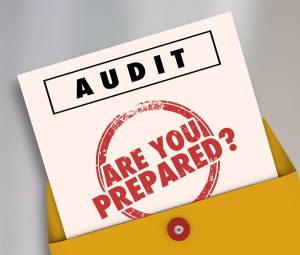 Auditing security can be very complex, time-consuming and painful. Unfortunately, it can also fail to give you accurate information or clear answers to help you satisfy your auditors or improve your security.
QCloud is a Cloud-based audit service which analyzes your ERP security and Segregation of Duties (SoD).  Simply login to QCloud, request an audit and the results are delivered within hours.
The only technical effort needed is around 30 minutes for installation, followed by a half hour training session for users to find their way around.   And then you can receive accurate audit reports whenever you want them, with no technical effort.
QCloud can help you if:
Achieving and maintaining SOX/FDA compliance is too costly
You find it difficult to satisfy your external auditors
You have unresolved audit issues and your next audit is approaching
You have no understanding of the risks, and have no internal auditors to help
You have nagging doubts about your security, but don't really know how to start finding the problems, let alone how to fix them
You find it hard to get buy-in and budget for security improvements.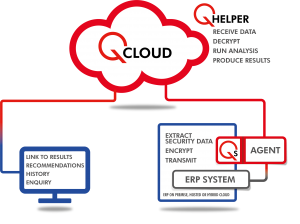 The first time you request an audit, you'll receive an email with instructions on how to download and configure QAgent.  This is the only part of the process that needs technical help and it takes around 30 minutes. ​ QAgent runs on any supported ERP system, located on-premise, hosted, in Oracle Cloud or in a Hybrid Cloud environment.
QAgent collects security data from your ERP system, encrypts it, then pushes it to QCloud. It extracts information on security and access rights; no transactional data is uploaded.
QCloud is hosted at AWS, a leading cloud provider, and at other local Cloud Service Providers. It receives and decrypts the data, then runs the analysis and produces the reports. You'll receive an email to notify you when the reports are ready, including links to access the audit results via QCloud. The results can be viewed by authorized users from anywhere, at any time.
SoD violations:
View by user or by SoD rule, with interactive queries so you can drill down to find the details of what's causing the violations.
General Security:
Provides metrics on the status of your security and helps you to clean up by identifying redundant items that could be hijacked and abused.
QCloud analysis and reporting encapsulates Q Software's 20+ years experience of working with ERP security.  We know what you need to look out for.
Using QCloud, you will benefit from the in-depth knowledge of our security and audit experts, and shine a light on vulnerabilities that many people overlook.
QCloud Security Audit is also available for Oracle ERP Cloud, JD Edwards EnterpriseOne and JD Edwards World.
See for yourself – try it for free
Why not let us audit your Segregation of Duties and security and show you any weak spots?
We can run a complimentary QCloud audit and show you the results.
Enter your contact details below to find out more:
Huge savings in audit and compliance effort and costs
Speedy identification of security problems
Easy to follow recommendations for remediation
Shorter audit cycle times
Better audit outcomes - less risk of deficiencies
Better protection against fraud
No need to involve technical staff
Accurate Segregation of Duties reporting
Clear information for auditors and business managers
Better collaboration between IT, Audit and the Business
Easy, repeatable audit reporting
No platform - just thorough auditing